Hawai'i is home to a variety of world-class and local interest museums. These popular museums offer a wide range of ways you can explore Hawaiian art, culture, and history. To guide your choices, we include general admission and the kama'āina discount price, as well as any free days. Discount admission tickets may also be available to seniors, children, and members of the military. Our list of Hawai'i museums below begins with those in the Honolulu area on Oʻahu, followed by the neighbor islands in alphabetical order.
O'ahu: Bernice Pauahi Bishop Museum
The Bishop Museum is the largest museum in Hawai'i and the premier natural and cultural history institution in the Pacific. It is recognized throughout the world for its cultural collections, as well as research projects, consulting services, and public educational programs. The architecture of the museum alone is worth the visit. The Museum's Polynesian Hall and Hawaiian Hall were built in 1889 by Charles Reed Bishop in honor of his late wife, Princess Bernice Pauahi Bishop, the last descendant of the royal Kamehameha family.
The magnificent Hawaiian Hall is built in the imposing Richardsonian Romanesque style. The Hall was extensively renovated from 2006-2013. Both halls are listed on the National Register of Historic Place.
The Bishop Museum's collections include millions of objects, documents, and photographs about Hawai'i and Pacific island cultures. The Bishop also has one of the largest natural history specimen collections in the world. Royal family jewelry, crowns, and other heirlooms showcase the extraordinary history, culture, and environment of Hawaiʻi. Native Hawaiian Items on display include, weapons, feather cloaks, and outrigger canoes, to name just a few.
The museum café offers a variety of Hawaiian specialties including plates, poke bowls, sandwiches, sweet treats, and snacks.
Visiting Bishop Museum
O'ahu: Damien and Marianne of Molokaʻi Education Center
The Education Center in the heart of Waikiki is a ministry of St. Augustine Catholic Church.
You can learn about the history of Kalaupapa, the colony on Molokai where those afflicted with Hansen's disease (also known as leprosy) lived in quarantine. The collection includes historic photographs, artifacts, displays, video presentations, and interactive exhibits.
There is also a small chapel for reflection, a meditation garden with transplants from Molokaʻi, and a gift shop.
Visiting Damien Education Center
O'ahu: Honolulu Museum of Art (HoMA)
Located in downtown Honolulu near Blaisdell Center, HoMA is comprised of gallery spaces, a gift shop, open-air café & coffee bar, library, theater, and art school. The museum has more than 50,000 works of art, spanning 5,000 years of history and representing all of Hawaii's cultures.
HoMA holds one of the largest single collections of Asian and Pan-Pacific art in the United States, along with works from America, Europe, Africa, and Oceania. The collections include paintings, decorative and traditional arts, woodblocks, and textiles.
Visiting HoMA
O'ahu: 'Iolani Palace
'Iolani Palace is the former residence of Hawaii's monarchy and the only official royal residence in the United States.
In 1845 the site of today's 'Iolani Palace was the location of the home of King Kamehameha III, as well as his successors: Kamehameha IV (Alexander Liholiho), Kamehameha V (Lot Kamehameha), William Lunalilo, and David Kalakaua.
In 1882, King Kalakaua replaced Kamehameha III's original home with the larger and more modern palace. It served as home to Kalakaua and his successor and sister, Queen Liliuokalani until the overthrow of the Hawaiian monarchy in January 1893. It remained the seat of Hawai'i State government until 1969. Iolani Palace was registered as a National Historic Landmark in 1962.
The Palace has been meticulously restored and is open to the public for docent-guided and self-guided tours. Allow at least 60-90 minutes to tour the palace.
Visiting 'Iolani Palace
O'ahu: Pearl Harbor Visitor Center & Historic Sites
Pearl Harbor is a National Historic Landmark that is also an active military base and Headquarters for the U.S. Pacific Fleet.
The Pearl Harbor Visitor Center is operated by the U.S. National Park Service.
Pearl Harbor is also home to four historic sites that tell the story of World War II in the Pacific: USS Arizona Memorial, USS Bowfin Submarine, Battleship Missouri, and Aviation Museum. Each of these attractions is described in more detail below.
USS Arizona Memorial
The USS Arizona Memorial is built over the remains of the sunken World War II battleship USS Arizona.
The memorial is the final resting place for many of the 1,177 crewmen killed on December 7, 1941, when their ship was bombed by Japanese Naval Forces.
The National Park Service (NPS) offers daily tours that include a movie about the December 7th attack, followed by a boat ride to the Arizona Memorial.
The entire program is about 75 minutes.
USS Bowfin Submarine at Pearl Harbor
Climb aboard for a close look at life aboard a WWII-era submarine. The USS Bowfin is not a replica of a WWII submarine – it is the real thing, painstakingly restored.
Tours are self-guided and include free audio guides in multiple languages and a child-friendly version. Stroll through several indoor and outdoor exhibits in the Pacific Submarine Museum.
Allow about an hour to get the most out of your visit.
Battleship Missouri Memorial at Pearl Harbor
USS Missouri was constructed at Brooklyn's New York Navy Yard and commissioned on June 11, 1944 to begin her career in World War II.
WWII finally came to an end on the Missouri, where Japan signed the Instrument of Surrender on 2 September 1945.
USS Missouri went on to a 51-year long career, serving in the Korean and Gulf Wars. In 1992, the battleship was decommissioned. In 1998, she opened as a historic museum.
The 35-minute guided tour is included in your General Admission ticket. You may also use a map to explore the ship on your own. Finally, you may upgrade your tour to "The Heart of the Missouri" that takes you deep inside the inner workings of the ship including the engine rooms and gun turrets.
Depending on tours you take and self-exploration, plan on spending 1-2 hours or more aboard the USS Missouri.
Pearl Harbor Aviation Museum
Expect to spend two hours or more to view the battle-damaged airfield and control tower of historic Ford Island before setting foot inside the two WWII-era hangars that house the museum's impressive collection of vintage aircraft.
Oahu: U.S. Army Museum of Hawaiʻi at Fort DeRussy
The U.S. Army Museum at Fort DeRussy on Waikiki Beach is housed inside a former coastal artillery battery.
The collection charts military history from early Hawai'i to Vietnam and includes weapons, uniforms, photos, and equipment. Don't miss the gift shop.
Visiting U.S. Army Museum at Fort DeRussy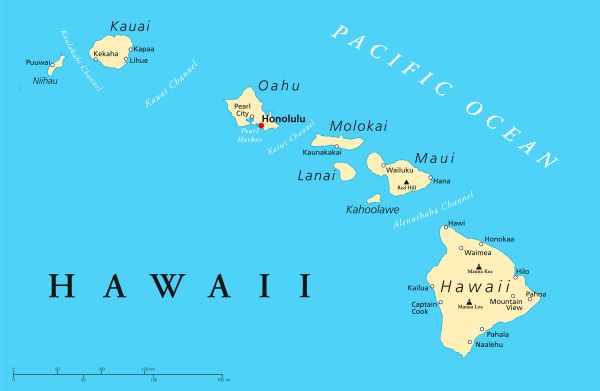 Hawai'i Island: Hilo Lyman Museum
The Lyman Mission House was originally built in 1839 for New England missionaries David and Sarah Lyman. In 1931, the Museum was established by their descendants.
Today the Lyman Museum is listed on the State and National Registers of Historic Places and is a Smithsonian Affiliate.
The museum's immersive exhibits give a well-rounded view of the natural history and culture of Hawai`i. Throughout the year, the museum also offers lectures and hands-on workshop in Hawaiian skills and crafts.
Visiting Hilo Lyman Museum
Hawai'i Island: Kona Hawaiian Quilt Museum and Gallery
The Kona Hawaiian Quilt Museum collects and displays vintage and contemporary Hawaiian-style quilts in permanent and traveling exhibits. Throughout the year, they host quilt shows.
At the Kona Quilt Museum you can trace a Hawaiian quilt pattern to take with you and browse Hawaiian quilts for sale in the gallery.
About Hawaiian Quilts
Native Hawaiian bed covers were traditionally made of layers of kapa or bark cloth. When missionaries arrived in the early 1800s, they taught piece-quilting techniques to Hawaiians.
The Hawaiian quilt as it is known today did not develop until the late 1800s. Traditional quilts were composed of only two colors: a large applique in a solid color stitched to a white or pale background.
The applique patterns reflected Hawaiian flowers and plants. Animals and people were considered kapu or forbidden in early designs.
Visiting Kona Hawaiian Quilt Museum
Hawai'i Island: Kona Hulihe'e Palace
Originally built out of lava rock as a residence of Kamehameha the Great, the Palace served as a home to several other members of Hawaiian royalty. By 1924, the Palace was in ruins and the grounds were overgrown.
In 1927, the property was restored by the Daughters of Hawaiʻi and turned into a museum. It consists of six large and graciously appointed rooms, two expansive oceanfront lanai, and lovely grounds.
In 1973, Hulihe'e was placed on the National Register of Historic Places.
The museum showcases artifacts from the era of King Kalākaua and Queen Kapi'olani, featuring beautiful koa wood furniture, portraits, kapa, feather work, Hawaiian quilts, and artifacts from Hawai'i's royal past.
Visiting Hulihe'e Palace
Kaua'i Museum
The Kaua'i Museum originally opened in 1960 as the William Hyde Rice Building and seeks to tell the story of Kaua'i and Ni'ihau. The Museum preserves these islands' cultural heritage and sponsors local artist' exhibits each year.
The collection and exhibits include the natural history, ethnological and historical background, Plantation Days, and Missionary and Asian influences.
Visiting Kaua'i Museum
Lānaʻi Culture & Heritage Center
This non-profit heritage organization seeks to inspire people to be informed, thoughtful, and active stewards of Lāna'i's heritage.
The museum's exhibits and artifacts celebrate the island's natural history, Hawaiian traditions, diverse cultures, ranching history, and plantation history.
Visiting Lānaʻi Heritage Center
Maui: Alexander & Baldwin Sugar Museum
The Hawaiian sugar industry began on the island of Kauai in 1835 and Maui in 1848. . Alexander & Baldwin purchased the thriving Hawaiian Commercial & Sugar Company (HC&S) in 1898. Sugarcane brought people from many different backgrounds to the.
The museum tells the story of the multi-cultural traditions contributed by the immigrants who came to provide the labor, and the development of Hawaii's plantation heritage.
The information is presented through a wide variety of indoor and outdoor exhibits featuring historical artifacts, photos, and documents.
Visiting Maui Sugar Museum
Molokaʻi Museum & Cultural Center
Learn about Molokai 's history over the last 150 years through newspapers, photos, short videos, and personal accounts from island locals. The museum features eclectic exhibits from petroglyphs to plantation-era furnishings.
Features of the museum include a restored Sugar Mill, featuring a mule-driven cane crusher and a steam engine.
You can also hear stories of patients with Hansen's disease (also known as leprosy) who were sent to live out their days in the community on the isolated peninsula of Kalaupapa.
Don't miss the gift shop for goods and crafts made by locals and an island map.
Visiting Molokaʻi Museum