Hawaiian words and phrases used on this website are linked to definitions in this glossary.
About the Hawaiian language
The government of Hawaii recognizes both Hawaiian and English as state languages.
The Hawaiian alphabet consists of 10 vowels (a,e,i,o,u,ā,ē,ī,ō,ū) and 8 consonants (h,k,l,m,n,p,w), including the okina ( ' ).
The okina
The okina or glottal stop, indicates a pause or break in the word. You will find the okina used at the beginning of a word or between two vowels but never between consonants.
The okina is often mistakenly left out. A missing okina may change meaning and pronunciation of a word, which can cause confusion.
For example, the correct spelling of two very common words is Hawai'i and lūʻau. But they are routinely spelled Hawaii and luau, which is incorrect.
Pronouncing Hawaiian words
Consonants are pronounced as in English.
Vowels a, e, i, o, u are pronounced ah, eh, ee, oh, oo. (If you happen to speak Spanish, Hawaiian vowels are pronounced the same way.)
A macron over the vowel (ā,ē,ī,ō,ū) changes the pronunciation to a longer sound and also changes the meaning of a word.
In addition, there are vowel combinations or diphthongs.
Two of the same vowel most often have an 'okina between them. Different vowels can also have an 'okina between them. The presence (or absence) of the okina changes the meaning.
And of course, the presence of a macron can change things again. The change in pronunciation can be hard to distinguish. It can take some practice if you are learning the language.
Here's an example:
pau means finished, ended, completed, or done.
paʻu means soot, smudge, or ink.
paʻū means damp, drenched, or moldy.
pāʻū means sarong or skirt.
If you wish to study more about the Hawaiian language, see the list of resources after the glossary.
Hawaiian Pidgin
Hawaiian pidgin developed as a third language between people from different cultures who were living and working on the sugar and pineapple plantations in the late 19th century.
Pidgin or Hawaiian Creole is a combination of Hawaiian, English, and other languages, primarily Chinese, Japanese, and Portuguese.
When pidgin words are included in the glossary below, we'll let you know that it is not a Hawaiian word.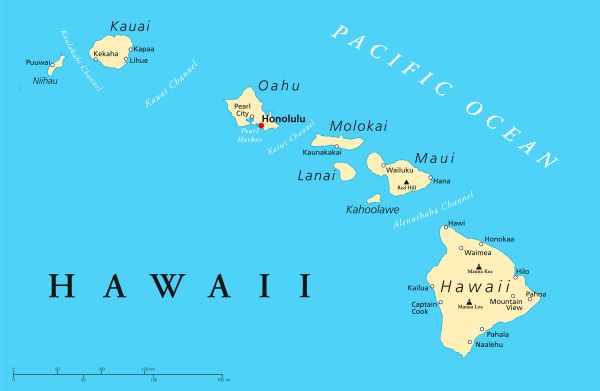 Glossary of Hawaiian words and phrases
akua: Hawaiian gods. The four main akua are: Kū (war), Kāne (life, forest, food), Lono (peace), and Kanaloa (ocean). There were many demigods and goddesses. Some of the more familiar are Pele (goddess of volcanoes) and Māui (superhero, demigod of the sun), but there are many, many more Hawaiian gods.
ʻaumakua: deified ancestors or personal gods who might assume the shape of animals or plants.
heiau: place of worhsip; a shrine
kama'āina: used to refer to a resident of Hawaii, as opposed to a tourist or visitor
kapa: (also pronounced tapa in some dialects) cloth made from the bark of the wauke or po'a'aha tree (the paper mulberry tree, Broussonetia papyrifera) that is beaten and felted to achieve a soft texture, and then dye-stamped with a geometric pattern.
kapu: forbidden, prohibited, no trespassing, keep out, or against the law
kōkua: help, aid, assistance, support, cooperation
ʻohana:  family, relative, kin group; related
ʻōlelo: language, speech, words
Hawaiian language resources
If you want to learn the Hawaiian language, check out the following online resources:
Hawaiian dictionaries online