The Maui Invitational is an annual NCAA basketball tournament that takes place Thanksgiving Week in Lahaina, Hawaiʻi. The event has long been considered the nation's preeminent early season college basketball tournament. Eight NCAA Division I men's basketball teams are invited to compete, playing three games in three days. ESPN networks offer live television coverage of all 12 Championship Round games.
The Maui tourney continues to provide schools an opportunity to compete on a neutral court with some of the top basketball programs in the country. Over 100 schools in 40 states have competed.
The teams compete for the Wayne Duke Championship Trophy, a two and a half-foot solid sterling silver trophy engraved with the team names of all past champions. Wayne Duke was Commissioner of the Big Ten Conference from 1971-89 and insturmentatal in developing the Maui conference. Duke served as chairman of the Maui Invitational Basketball Tournament 1990-2003 and chairman emeritus until 2009.
History of the Maui Invitational
The idea for the tournament began in 1982. Chaminade University of Honolulu Men's Basketball (goswords.com) team played top-ranked, undefeated University of Virginia in an unscheduled game during their stopover from a trip to Japan. In a still-historic and stunning upset, the Chaminade Silverwords bested the UVA Cavaliers 77–72 at Blaisdell in an untelevised game with just 3,300 spectators in attendance.
In 1984, Chaminade hosted the first Maui Class invitational on the Big Island at Konawaena High School in Kona. In 1985, it moved to Maui at War Memorial Gym in Wailuku and then to the Civic Center in historic Lahaina in 1987. Chaminade appeared in every Maui Invitational from 1984-2017.
In 2018, the tournament changed to have Chaminade play in the "Mainland" bracket in even years and the Maui bracket on odd years.
In 2020 and 2021, due to Hawaii COVID-19 restrictions, the tournament changed up a bit and was played on the mainland. In 2020 the tournament was hosted in Asheville, North Carolina and Chaminade did not make the trip. In 2021, the event was played in Las Vegas, Nevada with Chaminade again on the roster.
In 2022, the Maui Invitational returned to the Lahaina Civic Center.
2023 Maui Invitational
Usually held at the Lahaina Civic Center, this year's event will be relocated to Honolulu on the island of Oʻahu, because the Lahaina Center is being used as a critical hub in the 2023 Maui wildfire recovery efforts. If you wish to donate to Maui wildfire recovery efforts, we recommend the Hoops for 'Ohana online auction | Powered By GiveSmart. More info: Disaster relief: how and where to donate or volunteer (hawaiionthecheap.com)
When: November 20-22, 2023 (Thanksgiving Week). See the schedule and team brackets below.
Where: SimpliFi Arena at Stan Sheriff Center at University of Hawai'i Mānoa campus in Honolulu.
Tickets: All previously purchased tickets will be located in similar seats in SimpliFi Arena and all existing travel packages will be offered comparable accommodations in Honolulu. Additional tickets will go on sale in early October and can be purchased online.
More info or tickets: Maui Jim Maui Invitational – Official Athletics Website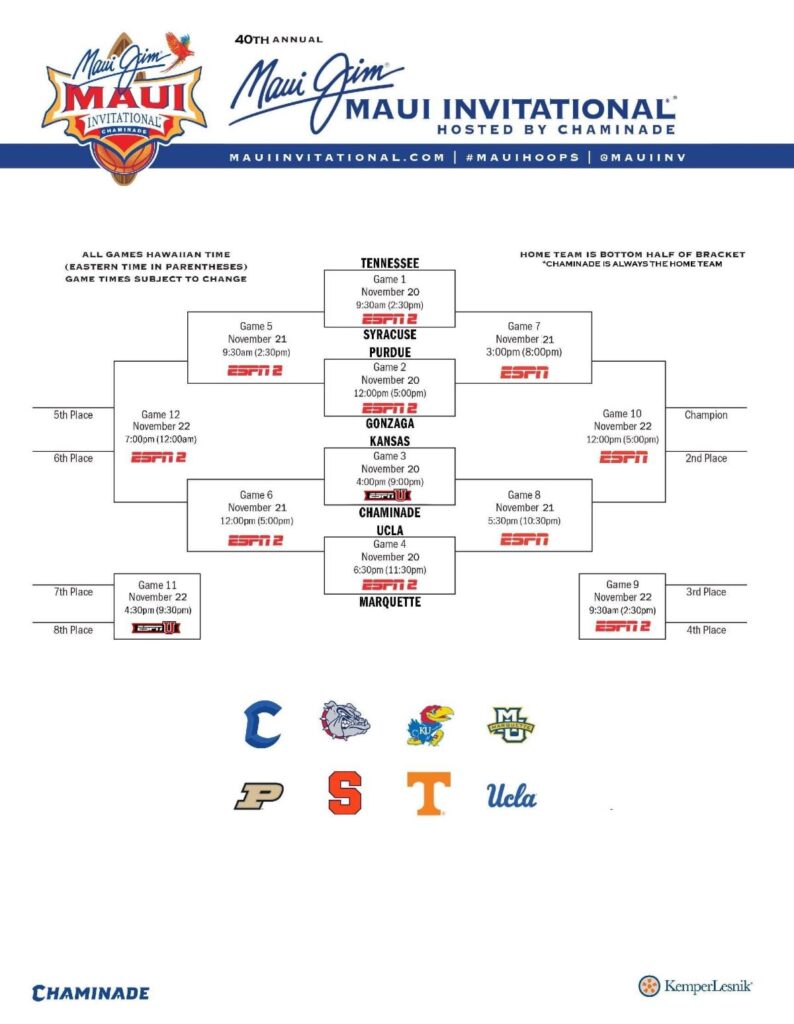 2023 Maui Invitational schedule and TV channels
Eight men's college basketball teams, five that are in the top 10 of ESPN's early preseason poll: Kansas (#1), Purdue (#3), Gonzaga (#7), Tennessee (#8) Marquette (#10), Syracuse, UCLA, and Chaminade.
Monday, November 20, 2023
Game 1: Syracuse vs. Tennessee | 9:30 a.m. HT | ESPN2
Game 2: Gonzaga vs. Purdue | 12:00 p.m. HT | ESPN2
Game 3: Kansas vs. Chaminade | 4 p.m. HT | ESPNU
Game 4: Marquette vs. UCLA | 6:30 p.m. HT | ESPN2
Tuesday, November 21, 2023
Game 5: Loser Game 1 vs. Loser Game 2 | 9:30 a.m. HT | ESPN2
Game 6: Loser Game 3 vs. Loser Game 4 | 12:00 p.m. HT | ESPN2
Game 7: Winner Game 1 vs. Winner Game 2 | 3 p.m. HT | ESPN
Game 8: Winner 3 vs. Winner Game 4 | 5:30 p.m. HT | ESPN
Wednesday, November 22, 2023
Game 9: Third place game | 9:30 a.m. HT | ESPN2
Game 10: Championship game | 12:00 p.m. HT | ESPN
Game 11: Seventh place game | 4:30 p.m. HT | ESPNU
Game 12: Fifth place game | 7 a.m. Thursday HT | ESPN2
What are silverswords?
Silversword or greensword (Hawaiian: 'ahinahina meaning "very gray") is a common name for plants in the genus Argyroxiphium, which are endemic to Hawaii. They grow only on Maui and Hawaiʻi Island. Silversword have long, narrow leaves with silvery hairs that grow on volcanic mountains. Though each plant lives for many years, they flower only once and die shortly thereafter.
The most well-known subspecies A. macrocephalum is known as the East Maui or the Haleakala silversword. Other subspeices are A. sandwicense or Mauna Kea silversword and A. kauense or Kau Silversword.
ʻAhinahina are rare and currently an endangered species due to several threats, including drought conditions, non-native species that crowd them out, grazing and wild animals that like to munch on the leaves, and humans who unwittingly trample them.
You might also like:
Calendar of free and cheap events across the Hawaiian Islands
Listed below are upcoming events on our calendar for the next 60 days.
Tuesday, September 26, 2023
Wednesday, September 27, 2023
Thursday, September 28, 2023
Friday, September 29, 2023
Saturday, September 30, 2023
Sunday, October 1, 2023
Monday, October 2, 2023
Tuesday, October 3, 2023
Wednesday, October 4, 2023
Thursday, October 5, 2023
Friday, October 6, 2023
Saturday, October 7, 2023
Sunday, October 8, 2023
Monday, October 9, 2023
Tuesday, October 10, 2023
Wednesday, October 11, 2023
Thursday, October 12, 2023
Friday, October 13, 2023
Saturday, October 14, 2023
Sunday, October 15, 2023
Monday, October 16, 2023
Tuesday, October 17, 2023
Wednesday, October 18, 2023
Thursday, October 19, 2023
Friday, October 20, 2023
Saturday, October 21, 2023
Sunday, October 22, 2023
Monday, October 23, 2023
Tuesday, October 24, 2023
Wednesday, October 25, 2023
Thursday, October 26, 2023
Friday, October 27, 2023
Saturday, October 28, 2023
Sunday, October 29, 2023
Monday, October 30, 2023
Tuesday, October 31, 2023
Wednesday, November 1, 2023
Thursday, November 2, 2023
Friday, November 3, 2023
Saturday, November 4, 2023
Sunday, November 5, 2023
Monday, November 6, 2023
Tuesday, November 7, 2023
Wednesday, November 8, 2023
Thursday, November 9, 2023
Friday, November 10, 2023
Saturday, November 11, 2023
Sunday, November 12, 2023
Monday, November 13, 2023
Tuesday, November 14, 2023
Wednesday, November 15, 2023
Thursday, November 16, 2023
Friday, November 17, 2023
Saturday, November 18, 2023
Sunday, November 19, 2023
Monday, November 20, 2023
Tuesday, November 21, 2023
Wednesday, November 22, 2023
Thursday, November 23, 2023
Friday, November 24, 2023