On October 4, 2023 at approximately 2:20 p.m. ET (8:20 a.m. HT), the Federal Emergency Management Agency (FEMA) and Federal Communications Commission (FCC) will conduct a nationwide test of the Emergency Alert System (EAS) and Wireless Emergency Alerts (WEA). The message will read something like: "THIS IS A TEST of the National Wireless Emergency Alert System. No action is needed."
Federal agencies occasionally test the system to make sure the technology is functioning correctly. In addition, they want to remind the public that such an alert system exists before it needs to be used for a large-scale emergency. Previous EAS national tests were conducted in November 2011, September 2016 and 2017, October 2018, and August 2019.
The 2023 national test will consist of two portions, testing WEA and EAS capabilities:
The EAS portion of the test will be sent to radios and televisions and will last approximately one minute.
The WEA portion of the test will be directed to all consumer cell phones. The test message will display in either English or in Spanish, depending on the language settings of the wireless handset.
WEA-compatible cell phones that have opted-in to receive WEA test messages (if available through your wireless carrier), the phone is turned on, and is within range of an active cell tower, will receive the test message. WEA messages will not interrupt ongoing voice calls. You will not be charged for this test alert.
If there is an actual emergency on October 4, a backup testing date is set for October 11.
More info: FEMA and FCC Plan Nationwide Emergency Alert Test for Oct. 4, 2023 | FEMA.gov
Find out more about the EAS and WEA in the sections below.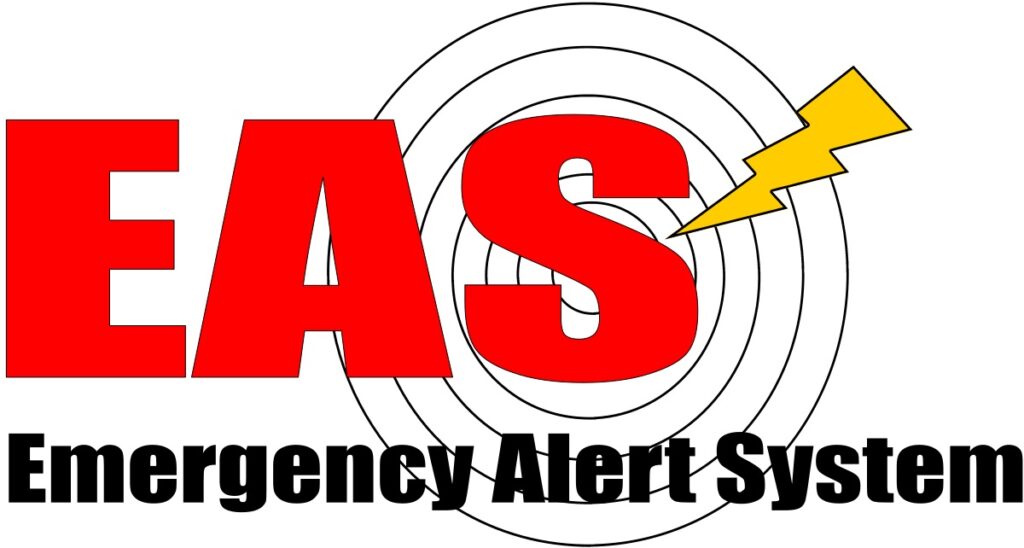 EAS: Emergency Alert System
You are likely already familiar with emergency alerts. Most EAS messages are sent by local and state authorities. The public will typically receive emergency alerts for events such as extreme weather (hurricanes, tsunamis, flash floods, etc.), Amber Alerts for child abduction cases, and active shooter situations. In addition, public safety alerts can also be sent to offer useful information when there isn't an immediate threat (such as hurricane watches and flash flood warnings).
EAS broadcasts interrupts programming only once, then regular programming continues.
EAS audio/text messages may be repeated twice.
EAS messages are sent through broadcasters, satellite digital audio services, direct broadcast satellite providers, cable television systems, and wireless cable systems.
WEA: Wireless Emergency Alerts
The Wireless Emergency Alert System (WEA) is used when all other means of alerting the public are unavailable, including broadcasting and internet connectivity. More than 100 carriers participate.
When you buy a new wireless phone, the "State/Local" WEA test option is disabled. The FCC recommends keeping WEA alerts enabled because they can be potentially lifesaving.
The method for opting in to receive WEA tests varies by phone. Check with your phone manufacturer or wireless provider for details.
WEA alerts use a special tone (some describe it as quite loud) and a vibration, both repeated twice, and special text message that appears on the mobile device screen. WEA message text will be in either English or Spanish depending on the language selected for the phone's main menu.
National Wireless Emergency Alert
FEMA and the FCC are responsible for national-level tests and exercises.
For national alerts, The President has sole responsibility for determining when the national-level EAS will be activated. To date there has never been a Presidential WEA alert, aside from a test message.
While state/local alerts can be disabled on your cellphone, consumers cannot block national WEA messages.
More info: A Guide for Alerts and Warnings (ready.gov) and Emergency Alert System | FEMA.gov
Hawaii's false alarm alert in 2018

On Saturday morning, January 13, 2018 at 8:07 ama. (HST), thousands of people in Hawaii received an EAS on cell phones and televisions that read, "BALLISTIC MISSILE THREAT INBOUND TO HAWAII. SEEK IMMEDIATE SHELTER. THIS IS NOT A DRILL."

Fortunately, it was a false alarm. But it took nearly 40 minutes for officials to issue an EAS correction. Official messages refuting the emergency alert were sent out at 8:20 a.m. Finally, at 8:45 a.m., 38 minutes after the initial alert was sent to smartphones in Hawaii, a second EAS retracted the missile threat and issued a false alarm statement.

The initial panic was followed by frustration and anger. Heads rolled. Investigations ensued. Changes were made in Hawaii. And the FCC issued new rules for how emergency alerts are sent.

So yeah, testing can be a good thing. We hope.

More info: 3 years after Hawaii's false missile alert, FCC adopts changes to emergency alert system (hawaiinewsnow.com)
You might also like: Disaster relief: how and where to donate or volunteer (hawaiionthecheap.com)
Calendar of upcoming events
Listed below are events from our calendar of free and cheap things to do.
Saturday, September 30, 2023
Sunday, October 1, 2023
Monday, October 2, 2023
Tuesday, October 3, 2023
Wednesday, October 4, 2023
Thursday, October 5, 2023
Friday, October 6, 2023
Saturday, October 7, 2023
Sunday, October 8, 2023
Monday, October 9, 2023
Tuesday, October 10, 2023
Wednesday, October 11, 2023
Thursday, October 12, 2023
Friday, October 13, 2023
Saturday, October 14, 2023
Sunday, October 15, 2023
Monday, October 16, 2023
Tuesday, October 17, 2023
Wednesday, October 18, 2023
Thursday, October 19, 2023
Friday, October 20, 2023
Saturday, October 21, 2023
Sunday, October 22, 2023
Monday, October 23, 2023
Tuesday, October 24, 2023
Wednesday, October 25, 2023
Thursday, October 26, 2023
Friday, October 27, 2023
Saturday, October 28, 2023
Sunday, October 29, 2023
Monday, October 30, 2023
Tuesday, October 31, 2023
Wednesday, November 1, 2023
Thursday, November 2, 2023
Friday, November 3, 2023
Saturday, November 4, 2023
Sunday, November 5, 2023
Monday, November 6, 2023
Tuesday, November 7, 2023
Wednesday, November 8, 2023
Thursday, November 9, 2023
Friday, November 10, 2023
Saturday, November 11, 2023
Sunday, November 12, 2023
Monday, November 13, 2023
Tuesday, November 14, 2023
Wednesday, November 15, 2023
Thursday, November 16, 2023
Friday, November 17, 2023
Saturday, November 18, 2023
Sunday, November 19, 2023
Monday, November 20, 2023
Tuesday, November 21, 2023
Wednesday, November 22, 2023
Thursday, November 23, 2023
Friday, November 24, 2023
Saturday, November 25, 2023
Sunday, November 26, 2023
Monday, November 27, 2023
Tuesday, November 28, 2023
Reader Interactions