Most of us are familiar with local apple bananas and the ubiquitous Central American Chiquita. Few of us know about or have eaten a Hawaiian banana or enjoyed bananas in a savory dish. The Waimea Valley Banana Festival is a fun exploration of Hawaiian banana: its botanical and culinary history, as well as how to successfully grow and use bananas.
Banana varieties brought as canoe plants to Hawaiʻi by Polynesian voyagers include many varieties that have disappeared or are very difficult to find. These rare banana varieties include Iholenas, Maolis, Popoulus, and Fei bananas. In particular, Iholena and Maoli plants have been found growing in our forests, believed to have been planted by ancient Hawaiians and/or recently by workers building irrigation canals. Effort has been underway to collect and preserve these unique varieties.
The free Banana Festival was created to expand our notions of what a banana is and what it can become in our diet. Noted island chefs will be on hand to provide samples and recipes for banana dishes. Banana-based lunches and desserts will be available for purchase. There will be opportunities to taste different kinds of honey, learn about pollinators at the Hanai Hives booth, find out how to support the Hawai'i Tropical Fruit Growers—and what they offer to both farmers and backyard fruit fans.
2023 Mai'a 'Ho'olaule'a (Banana Festival) at Waimea Valley
Hawai'i Banana Source, Slow Food Oahu, and Hawai'i SEED, with partner Hi'ipa, are hosts for the free inaugural Mai'a 'Ho'olaule'a/Banana Fest.
Where: Waimea Valley 59-864 Kamehameha Highway Haleiwa, HI 96712
When: Saturday, October 21, 2023, 11:00 AM – 4:00 PM HST
Admission: FREE
Check out the list below detailing some of the other fun activities available during this one-day banana festival at Waimea Valley.
Highlights of the Mai'a 'Ho'olaule'a (Banana Festival)
Banana samples featuring numerous varieties of bananas
Expert talks about banana history, growing, preservation, and cookery
Banana merchandise and books for sale
Plants and fruits for sale
Hawaiian craft demos
More info: TBA
You might also like: 37 delicious local and Hawaiian foods are paradise in your mouth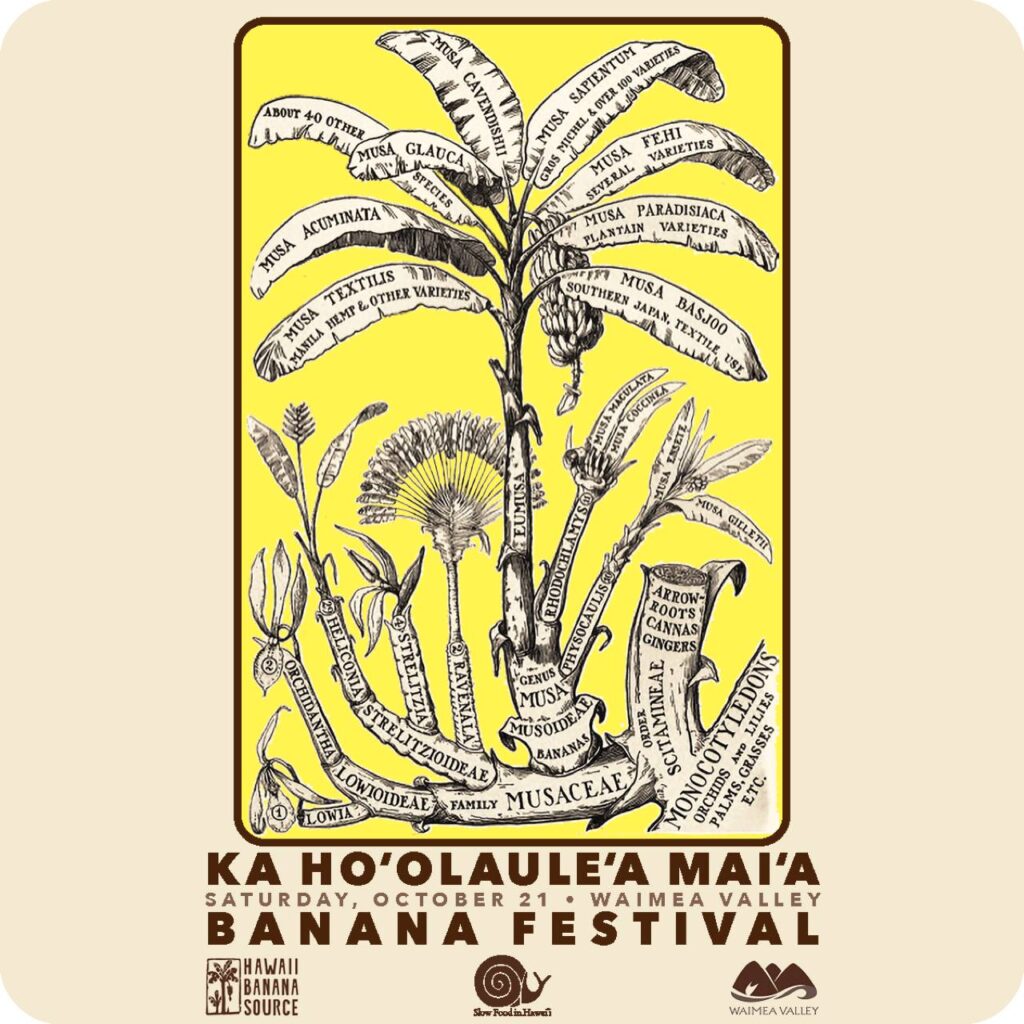 Oʻahu: Free Mai'a 'Ho'olaule'a (Banana Festival) at Waimea Valley
When
October 21, 2023 @ 11:00 am-4:00 pm
What
Oʻahu: Free Mai'a 'Ho'olaule'a (Banana Festival) at Waimea Valley
Where
Oʻahu: Waimea Valley (Haleʻiwa)
Oʻahu: Waimea Valley (Haleʻiwa)
59-864 Kamehameha Hwy
Haleʻiwa, HI 96712