Kā Molokaʻi Mahahiki, the annual Makahiki festival is a time of joy, prayer, and friendly competition in the Molokaʻi community.
What is Makahiki?
Makahiki is essentially a harvest festival held in ancient Hawaiʻi, a three- to four-month period between October and February. When the star cluster Na hiku o Makaliʻi (aka Pleiades, Subaru, Seven Sisters, or M45 in the constellation Taurus) appears on the eastern horizon at sunset, it marks hoʻoilo (winter or wet season, accompanied by strong winds and rain) and the beginning of a new year in the Hawaiian calendar.
During Makahiki, offerings were made to the god Lono (Lono-i-ka-makahiki), who is associated with agriculture, rainfall, and peace. With harvesting completed for the season, work and warfare were kapu (forbidden). This was a time for putting aside differences, rest, and rejuvenation marked by feasting, playing games, hula (dancing), and moʻolelo (storytelling).
Makahiki games can be compared to the Olympics today. The games were open to everyone. While the games were played throughout the year, during Makahiki the competitions and tournaments were an important part of the celebrations, as well as a training ground for young warriors.
Makahiki games
Competitive games and sports are a key part of the Makahiki season. Over 100 games were developed over the centuries. Listed below are brief descriptions of a few of the games played at the annual Molokaʻi Makahiki games.
Haka Moa ("chicken roost"): a one-leg standing wrestling match that can be played by children, though it is often compared as a human form of the vicious (and illegal) sport of cockfighting. Two players stand in a circle (e.g. marked by flowers or stones). Each holds one leg by the ankle and puts their free arm behind their back. The object of the game is to bump your opponent, causing them to drop their leg or be pushed out of the circle. (Watch the YouTube video below of children playing haka moa.)
Kōnane: a two-player strategy board game similar to checkers or draughts. The size of the board and variants in play can make the game strategy more difficult as in chess or go. Formally, Kōnane is played on a stone or wood surface called a papa kōnane using black and white pebbles. But an informal game board can be set up on any surface that can be marked in a grid.
Kūkini: a running race. In ancient Hawaiʻi, kūkini were runners trained and employed by aliʻi to work as messengers, scouts, or other tasks. Legends grew around the fastest runners. Eventually, foot races took place, with spectators betting on their favorite kūkini.
Pā Uma: a standing arm-wrestling match. While Uma is typically played from a kneeling position, in pā uma the opponents stand. In any arm wrestling, the object is to force the back of the opponent's hand to touch the ground. In the 19th century, Hawaiian games were mostly supplanted by European sports. The first King Kamehameha Day on June 11, 1872, the holiday honored the King with competitions that celebrated ancient Hawaiian traditions, particularly uma.
Ulu Maika: a rolling stone disk game, similar to lawn bowling. One of the best of the remaining 'ulu maika courses in the Hawaiian Islands is located on the island of Moloka'i and is approximately 500 feet long.
Kā Molokaʻi Mahahiki (Molokaʻi Makahiki festival)
Kā Molokaʻi Mahahiki occurs over several days each January. More info: KĀ MOLOKAI MAKAHIKI (kamolokaimakahiki.com)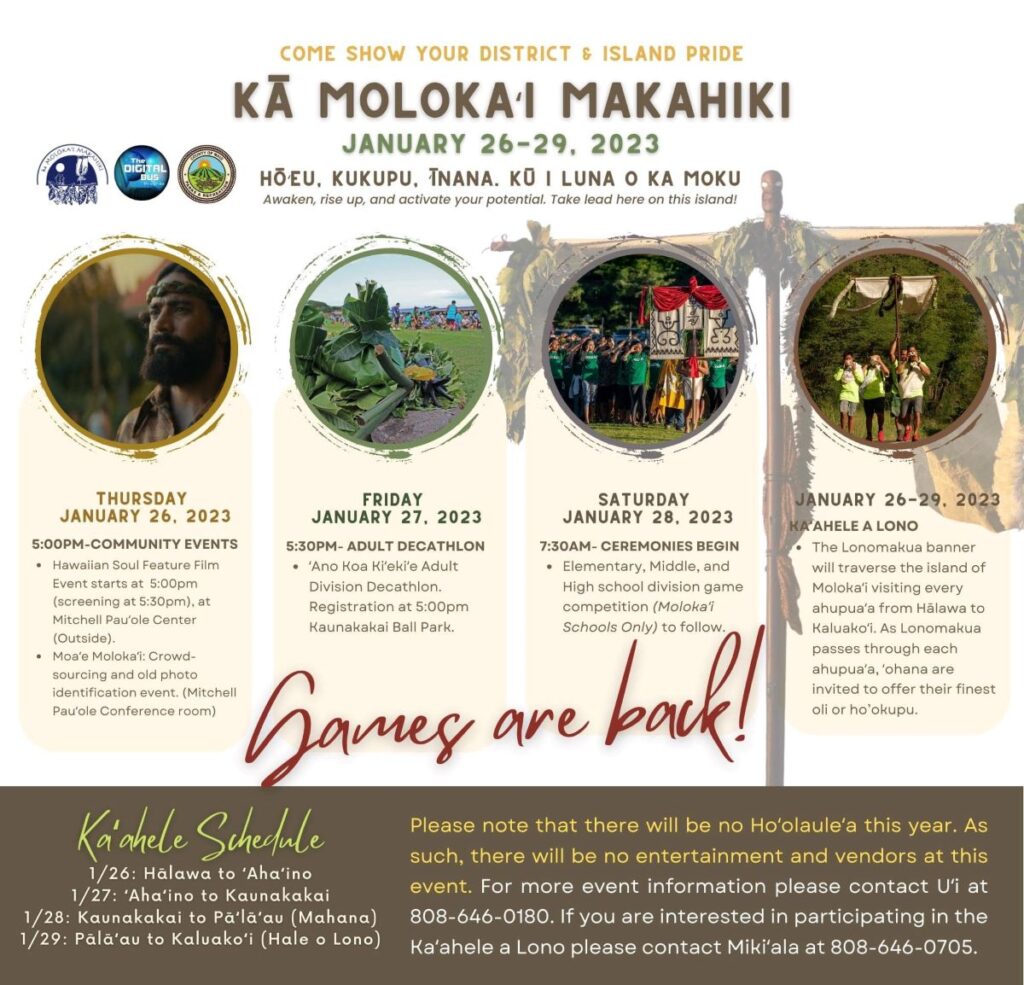 Kaunakakai Ball Park, Ainoa St & Ala Malama Ave, Kaunakakai, Molokaʻi, HI 96748