Free Comic Book Days take place at participating comic book specialty shops across the country. On this day, you can get a free comic book from well-known publishers like DC Comics and Marvel Comics. Stories give away comic books–absolutely free–to anyone who comes into their shops. But don't expect to pick up a free comic book at the grocery store or drug store. Free Comic Book Day celebrates independent specialty shops selling comic books and related products.
Each comic book specialty shop is unique, with a style and personality all its own. Each shop typically carries comic books, graphic novels, and related merchandise. And each shop determines whether or not to participate in Free Comic Book Day.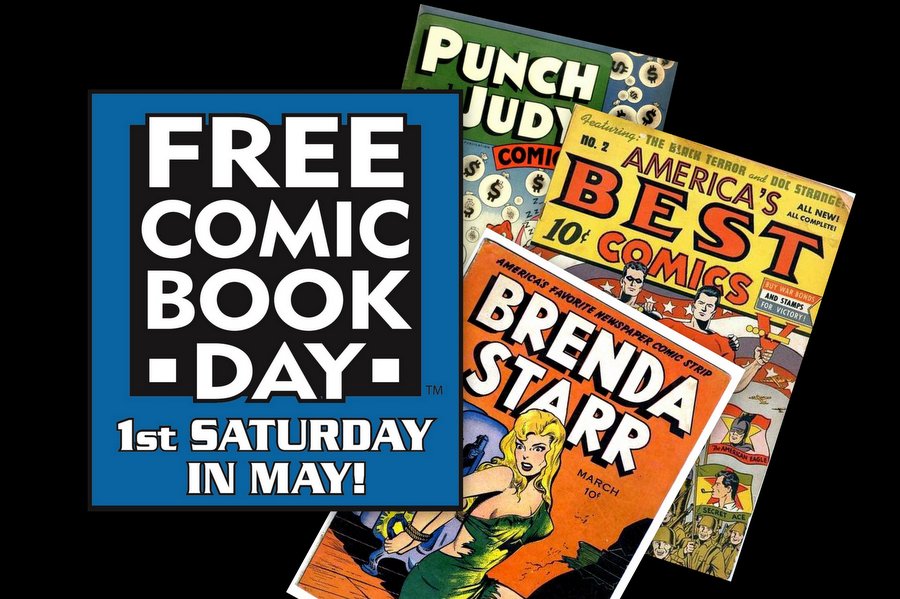 About Comics
The history of comics in the United States can be traced to the 1920s when newspaper comic strips were collected and reprinted as a soft cover comic book or pamphlet. These comic-strip reprints are the earliest forms of American comic books. In the 1930s, original stories about Superheros and Detectives were written, illustrated, and published as comic books, a new literary form. In these early comic books, racists images were common, depicting African Americans or Asians as derogatory stereotypes. Comic books continued to develop over the next several decades.
Today, popular comic book genres include manga, sci-fi, horror, humor, non-fiction, and "real life" in addition to the ever-popular superhero and detective stories. Comic books are available in many countries in their native language, including South Africa, India, Thailand, Germany, Poland, Slovenia, Puerto Rico, Argentina, and many other locales. In fact, the U.S. comics market is dwarfed by the Japanese and French comics markets, each capturing about 40% of the worldwide share, with the U.S. coming in around 10% (See Wikipedia/Comic_book.)
Comics vocabulary
If you are visiting a comic book shop for the first time, listed below are some terms you may want to know:
A comic book can stand on its own but is usually part of a series.
A comic book series can also be called a title, which refers to the entire series, not a single comic book title.
Multiple issues of a series are sometimes collected into a volume. A volume can be softcover or hardcover. Softcover editions are often called trade paperbacks, or just trades.
A graphic novel is a standalone comic book that is not usually a part of a series. (I think of comic books as short stories and graphic novels as a full-length illustrated book.)
A graphic novel can be an original story. However, regular, book-form novels have been illustrated (more about this in the Graphic Novels section below).
Manga is a the very popular style of original Japanese comic books and graphic novels.
Some manga are written for children and others are sexually explicit, so be sure you know what you are getting.
Anime shares the same general visual style as manga, but it is not a comic book. Anime is an animated movie, so something to watch rather than to read.
Note that many of these comic book terms are interchangeable. A graphic novel can refer to a reprint collection, or an original story in hardcover or soft cover. Similarly, all of the formats above can be called comics or comic books, including graphic novels. But not all comic books are graphic novels. There is a lot more to know about comics. You may be interested in learning more about collecting comics (see below).
Graphic Novels
While graphic novels are comic books, the distinguishing factor for a graphic novel is length. Graphic novels have existed since the 1970s. Some literary critics have shunned graphic novels for not being "serious" works. However, they have become unto their own as a legitimate art and literary form. As mentioned above, graphic novels can be original stories, or may be a regular book-form novel that "translated" into graphic form.
Listed below are many examples of "translated" novels. This list includes non-fiction in different genre from classic to contemporary that have been adapted into graphic form. Listed in no particular order, many of these book titles may be familiar to you:
This list represents just a few of the hundreds of available adaptations.
Collecting comics
Most comic book collectors first choose a purpose for their collection, which might be simply for pleasure, as an investment strategy, or any other desire or goal. A collector can define their focus to those of a particular time period (pre-WWII) or genre (horror or manga, etc.), to showcase different artwork styles, have unique or interesting storylines, to collect pop culture memorabilia, or any other goal.
You can find collectible comics in many places, including independent specialty comic book shops, as well as at comic book conventions, flea markets, auctions, and private dealers. Serious collectors must also learn proper storage and preservation techniques, such as placing comics protective sleeves and storing them away from direct light and heat or humidity.
If you decide to collect comics beyond a few for pleasure reading, be sure to set a budget, start slowly, and visit independent comic shops. Avoid impulse buys or emotional purchases. Talk with owners and staff about comics and graphic novels. Research carefully before you plunk down your hard-earned cash. The Overstreet Comic Book Price Guide lists the current value of individual comics. Whatever your approach, collecting comics should be fun!
Free Comic Book Days
Different independent comic book shops have policies on the distribution of comics on free comic book days. But you should receive at least one free comic if you enter a participating shop location.
Free Comic Book Day first Saturday in May
Since 2002, Free Comic Book Day has been held the first Saturday in May. As the day approaches, www.FreeComicBookDay.com will update the list of participating retailers. You can usually check this list beginning in early April. Subscribe to their e-mail newsletter to be alerted when the database is ready.
In 2023, free comic book day is scheduled for May 6, 2023. We found the following events taking place for Free Comic Book Day:
Find comic book shop near you: Shop Listing – Free Comic Book Day
Halloween ComicFest in October
Halloween ComicFest is held on the last Saturday in October. It's the Spooky version of Free Comic Book Day! While the Free Comic Book Day in May includes all genres, ComicFest focuses on Halloween and horror-themed comic books, collectibles, and other merchandise. Participating comic book specialty shops across North America and around the world give away specially published comic books absolutely free to anyone who comes into their shops.
In 2021, Halloween ComicFest was cancelled but is expected to return for 2022. Stay tuned….
More info: Halloween Comic Fest