Unfortunately, due to the worsening COVID-19 situation and new City and County of Honolulu mandates, the Beyond Van Gogh will temporarily close as of the end of the day on Tuesday, August 24th.

All unused tickets for Wednesday, August 25th onwards will be refunded to the original method of payment within the next 40 days. No action is required on your part; refunds will be issued automatically.

If we can re-open the exhibit, we will contact ticket buyers via e-mail.

We are so sorry that we were not able to stay in Hawaii longer, but the health and safety of our guests and the community is our highest priority. Be safe and be well.
Digital art exhibits have been increasingly popular around the globe, drawing crowds to sold out shows. These walk-through immersive art shows are set to music and offer a stunning visual and audio experience.
Several traveling shows are currently focused on the work of Dutch impressionist painter Vincent van Gogh. Each show is different, but immerses visitors in a large-scale exhibit. Moving artwork images are projected onto the walls, ceilings, and floors in a vast gallery space or warehouse.
Find out more about Van Gogh and digital art exhibits featuring his paintings, plus information about the upcoming show in Honolulu, "Beyond Van Gogh: The Immersive Experience".
About Vincent Van Gogh
Over 100 years after his death, Vincent Willem van Gogh (1853-1890) remains one of the most famous artists of all time. After his death, his works sold for record-breaking sums at art auctions and were featured at sold-out exhibitions around the world. Like many posthumously famous artists, his innovative painting style was not accepted by the art-buying public while he was alive.
Van Gogh painted in the Dutch post-impressionist style. The distinctive style of his paintings are some of the most recognizable art anywhere in the world. His interpretations are immediately recognizable by his use of intense color, distortion of shapes, and thick, frenzied brushstrokes. His works include landscapes that seem to move, as well as contemplative portraits and still life compositions.
He is also famous as a tormented man who cut off his ear. He spent some time in a mental hospital at Saint-Remy-de-Provence in the south of France. Nevertheless, he remained a prolific artist throughout his short career. He did from a gunshot wound at the age of 37. It is unclear whether this was an accident or self-inflicted.
Whatever his personal demons, Van Gogh's works revolutionized artistic practices of the time and influenced the style of generations of artists who followed him.
Van Gogh's extraordinary sense of color and boldness of his technique have left us with masterpieces to be enjoyed more than a century after his death.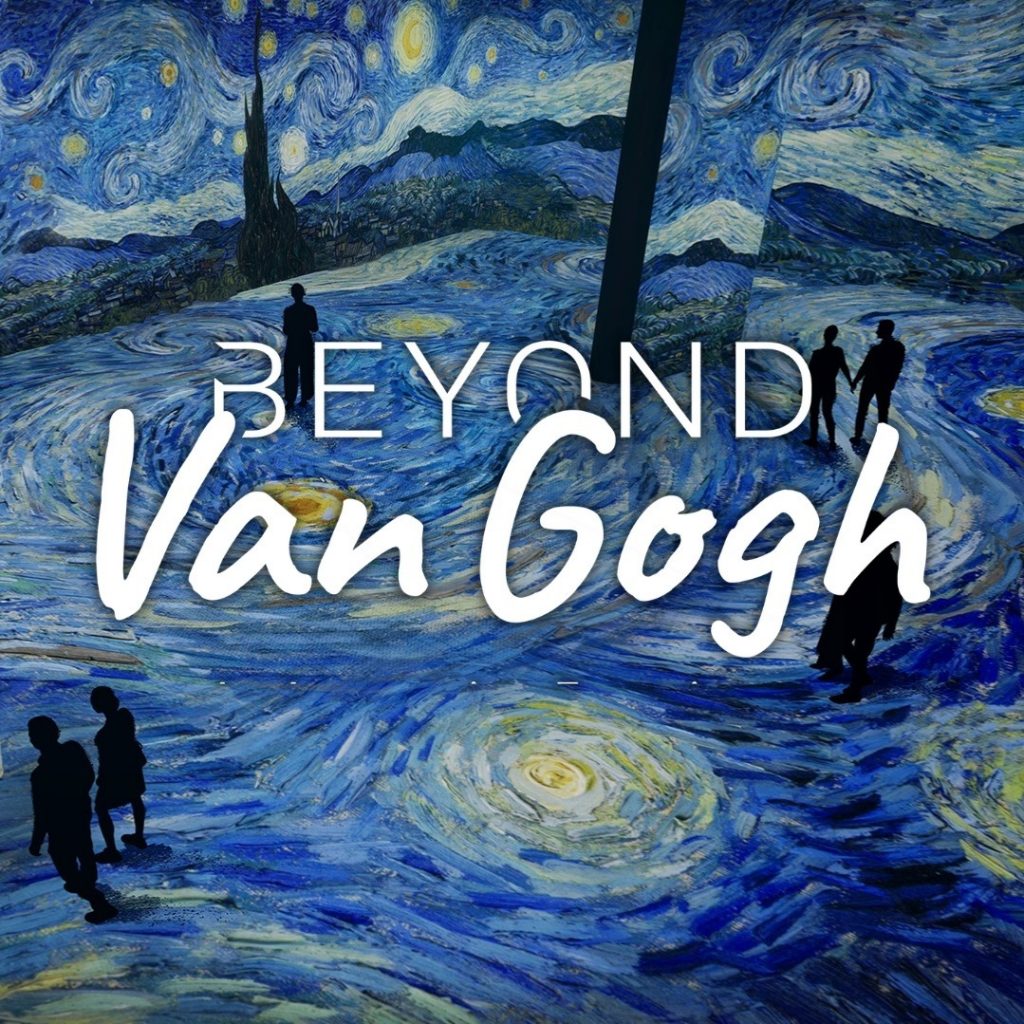 About Beyond Van Gogh: The Immersive Experience
Beyond Van Gogh is a walk-through exhibition that allows for 6-foot distance between attendees and includes increased cleaning practices that follows the advice of local public health agencies and government officials.
The imaginative and immersive presentation is crafted for our time by world renowned audiovisual designers at Normal Studio. Beyond Van Gogh: An Immersive Experience features voice-overs of van Gogh's words set to a symphonic score and 300 of his masterpieces. The installation uses cutting-edge projection technology to create an engaging journey.
Using his dreams, his thoughts, and his words to drive the experience as a narrative, you walk along projection-swathed walls wrapped in light, color, and shapes that swirl, dance, and refocus into the flowers, cafes, and landscapes of Van Gogh's paintings. His masterpieces, now freed from frames, come alive, appear and disappear, and flow across multi-surfaces—the minutia of the details engulfing your senses.
Through Van Gogh's words set to a symphonic score, you may come to a new appreciation of this tortured artist's stunning works.
"Beyond Van Gogh: The Immersive Experience" will be in Honolulu for a limited engagement.

Tickets go on sale May 27. The exhibit opens July 2. Adult (16+) admission is $34.99 weekdays, $44.99 weekends. Premium/VIP admission $51.99-$61.99/$89.99.

More info or tickets: https://vangoghhonolulu.com/
Other touring digital Van Gogh Exhibits
Several different immersive Van Gogh exhibits are currently touring in locations around the world.