Opened in May 1999, Wet'n'Wild Hawaii is one of Oahu's most popular family attractions with many options for adults, teens, kids and families of all ages. Located in Kapolei on 29-acres lush tropical acres set against natural cliffs the water park boasts more than 25 attractions offered on a rotating schedule. There are "chill" attractions for keiki and adults who want to simply relax on the water, slides and wave pool for a little more action, and pay-to-play extreme rides if you really want to get your heart pumping.

Wet'n'Wild attractions
Families flock appreciate the childrens' areas with kid-friendly fun action including mini-slides, splash pads, tipping buckets, water cannons, surfboards, spray features, and other keiki-size fun. For more moderate action, you can choose from a variety of water slides or the fabulous "Hawaiian Waters" 400,000-gallon wave pool where you can body board on machine-generated waves strikingly similar to the gentle rolling surf on Waikīkī Beach. There are no flat surf or jellyfish days at Wet'n'Wild! Thrill-seekers won't be disappointed at the Shaka Slide, which plunges 36- feet in a nearly vertical drop, or the Tornado, which catapults guests through a swirling 45-foot funnel, plus other extreme pay-to-play experiences.
Be sure to read about height and other safety requirements for each ride. Guests who do not meet the posted ride requirements will not be able to ride. A five-rating signifies the most extreme experiences, down to the tamer activities in the one and two range.
Food and beverage options at Wet'n'Wild
Wet'n'Wild water park provides a variety of dining options including a family-friendly sit-down cafe featuring pizza, salads, burgers, and local fare. There is also a 21+ only bar area with big screen TV screens showing the latest sporting matches. For more casual refreshments, visit any of the Food and Beverage Carts located throughout the park offering a variety of snacks and beverages.
Note: no outside food or beverages are allowed inside the park. However, guests may exit the park gates and re-enter with your ticket stub and stamp.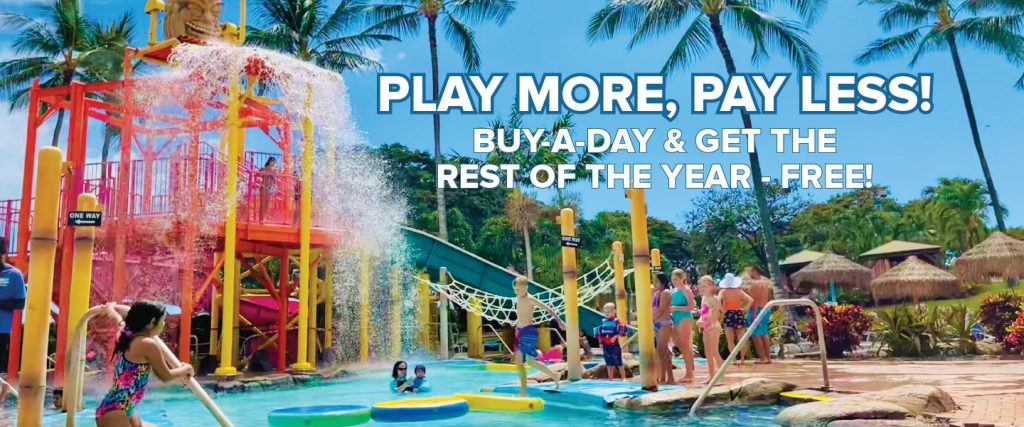 Visiting Wet'n'Wild Hawaii
Where: Wet'n'Wild Hawaii, 400 Farrington Hwy, Kapolei, HI 96707
When: Hours vary throughout the year. Open daily in summer, weekends during the school year, and other days for special events & holidays.
Lockers: Single-day lockers are available for rent on a first-come, first-served basis.
Life Jackets: Available for free on a first-come, first-served basis.
Shopping: Visit the Surf Shack to buy the hottest brand in surf wear, sun care products, beverages, and more. Choose from Quiksilver, Billabong, Volcom, Roxy, and other popular brands. Find a huge selection of sandals, slippers (flip flops), water socks, and other beach and water accessories.
Website: Wet 'n' Wild Hawaii (wetnwildhawaii.com)
Tickets to Wet'n'Wild
Single Day Tickets include all-day admission but does not include pay-per-play attractions.
Tickets (age 3+): single day admission $59.99/general non-resident, $49.99/Senior 65+ and Junior (children 42″ & under and over 2 years old; keiki age 2 and younger are free), $44.99/Hawaii & US Military resident
Passes (age 3+): $59.99 annual (January-December) includes unlimited visits and other benefits. Upgrade for $10 or $20 more and get freebies, discounts, and other exclusive benefits.
Online purchase discount: Buy your ticket online at least 24-hours in advance and take advantage of available discounts for non-residents and residents.
More info: Ticket info – Wet 'n' Wild Hawaii
Events at  Wet'n'Wild
Chief's Luau. Produced by Chief Sielu Avea, the original world champion fire-knife dancer and widely regarded as the best and funniest Polynesian entertainer in the South Pacific. Adults $99-$195. Kamaʻāina rates available.
Wet'n'Wild Hawaii is a great party venue for group picnics and celebrations where your guest can soak up all the action on-and-off the water. The picnic area can accommodate groups of 100 to 3,000 people. Their professional staff work with you every step of the way to plan a celebratory event for your family, organization, or business.
Throughout the year, enjoy special events at Wet'n'Wild Hawaii, such as concerts, hula performances, contests with prizes, and movies.
More info: Events – Wet 'n' Wild Hawaii
Upcoming Dive'n'Movie Nights
Watch blockbuster movies under the stars or floating on an inner-tube at the wavepool on the 20′ High-Definition LED TV screen. Enjoy extended hours, food & drink specials, prize giveaways, and more! Dive'n'Movie is FREE with your 2022 Season Pass or single day admission ticket.
October 22:  Ghostbusters:  Afterlife (PG-13)
November 11: Top Gun: Maverick (PG-13. Movie matinee at 12:00PM)
November 12:  Minions: The Rise of Gru (PG).  Showtimes at 12:00 & 5:00 PM
December 17:  Grinch (PG)
December 30:  Wonder Park (PG)
More info: Dive'n'Movie Night – Wet 'n' Wild Hawaii (wetnwildhawaii.com)